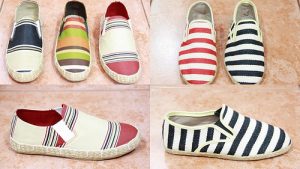 Did you know men's shoes could be the key to their soul? Believe it or not, a man's shoes can be saying a dozen different things about him without him ever uttering a single word. No, we aren't saying that men's shoes can actually talk, but we are saying how a man maintains his shoes and which shoes he decides to wear could be a representation of who he is.
A study done by researchers at the University of Kansas and Wellesley College in Massachusetts, which was later published in the Journal of Research in Personality, found that shoes convey a thin but useful slice of information about the wearer. People in the study were shown pictures of men's shoes and they could usually guess the wearers age, ballpark income and level of agreeability based on his shoes alone. The most surprising thing the study found was that participants were accurate at guessing attachment anxiety just by a man's shoes! In case you are unfamiliar with attachment anxiety, it is a condition in which a person worries about being separated from a friend or loved one. 
So what might your shoes be saying about you to women? Here is a fun break down of different types of men's shoes and the messages they convey.
1. Boots – They convey the message that you have a solid attitude; you're sturdy and a serious man. The urbanite man or the weekend warrior usually wears boots. Lug boots are a good fit for a guy who mixes work with a rugged weekend.
However, if you are sporting a pair of Timberland's boots, chances are women think you might be ghetto or you're a want-to-be thug. Women say they picture a man who's wearing this type of boot is into gangster rap, laid back but loyal, drives an SUV, owns some wide-brimmed hats and will most likely take them to a rap concert on a first date.
2. Loafers – The attitude with these shoes is globally connected, smart, but at the same time you're screaming, "I'm image conscious!" A man wearing loafers with cuffed trousers conveys the message that they may spend more time in front of a mirror than a woman does. He might also think these are sexy shoes that not only look good, but feel good too.
3. Vans – The attitude here is trendy meets urban. Vans are a versatile shoe that goes well with both shorts and pants. The man who wears Vans is perceived as a low-maintenance guy who is easygoing.
4. Boat Shoes – If you wear these shoes regularly you most likely went to an Ivy League school. These shoes say, "I like to play golf," and, "I love fresh polo shirts." The man who wears boat shoes is perceived to say things such as, "Is it weird I'm going to order a salad?" Suggesting that it's weird, but it's not, somehow makes it weird.
5. Designer Dress Shoes – These really are sexy shoes for men. If you love wearing designer shoes, it's a good bet you're wearing an expensive suit to match and women swoon over you and your sexy shoes.  Designer shoes convey the message that the man has sex appeal down pat and he appreciates the finer things in life. However, the news isn't all roses for men who wear these sexy shoes. The designer shoe also conveys the message that you might be arrogant because of your confident persona.
Are you a man who loves wearing sexy shoes or are you more of a comfort man?  Let us know what your favorite shoe is!
CLEVERFIT is the world's first precision fit adjustable collar stay. It's unique patent pending design provides an innovative solution to end decades of frustration. Click here to contact us and check out our video to more about CLEVERFIT.
Photo Credit: Thrifty Look