"Looking good isn't self importance; it's self respect." – Charles Hix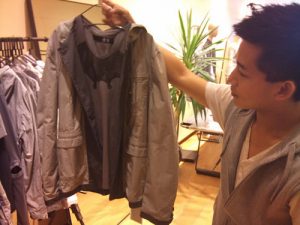 For many young men, style and fashion don't become important to them until after they have graduated college. Once they hit the "grown up" world they realize it's a good idea to become familiar with style and fashion. Too many young men are starting their professional lives without a clue as to how to dress. Whether we like it or not, we live in an image-centric world where people quickly judge you by what they see. Is your hair neat? Are your clothes tailored? Is that a designer pair of shoes you're wearing?
In terms of style and fashion, everyone can use a sensei from time to time to help guide them to look their best. For men, the art of dressing isn't so simple. Though many women will say, "Men have it easy when it comes to clothes. They just have to throw on a T-shirt and jeans," this isn't the case. Whether it's work clothes, play clothes or everything in between, it takes time, effort and a little inspiration to look put-together and effortless. Here are three tips to help you look like a man and not a boy.
1. Style Pyramid – If you've always had your mom or girlfriend help you pick out your work clothes because you're not sure where to start, it's a good idea to consider using the Style Pyramid. According to the Art of Manliness, it's a simple three-step rubric: Fit, Fabric and Style. If a piece doesn't meet all three criteria then you're better off not wearing it. Here's a quick rundown.
Fit is at the top of the pyramid. If a garment doesn't fit well, don't bother looking at the other two criteria.
Fabric is a crucial consideration. It's the key in determining the quality of a piece of clothing. If you don't like the raw material you're not going to like the finished product, so don't bother and move on.
Style is about you, your own personal taste and the image you want to present. If it fits and it's well made, but it doesn't have the look you want, then it's not a good idea to buy it. It's better to find something that not only fits the first two criteria, but that you will also enjoy wearing.
2. Shoes – Whether or not you realize it, your shoes are telling the world a variety of things about you. In a previous blog post, we discussed that a man's shoes say a lot about him and some people even judge you by your shoes. So it's a good idea to shell out some cash and get yourself a well-made, classic shoe. A good pair of men's shoes will last for years and stay looking good without too much maintenance.
3. Ignore Fashion Trends – Mainstream fashion trends change quickly and most young men don't have the budget to buy new work clothes every few months. It's a good idea to stay away from pants, shirts and even colors that are trendy or "in" season. Stick to classic clothing staples for the core of your wardrobe and avoid anything that's cutting edge.
A good tip to leave you with is to never underestimate the power of an iron. The iron is the ultimate tool for looking great in your work clothes. In fact, if you're not ironing your work clothes, it's likely you're not dressing well.
What are your tips to dressing to impress? Let us know!
CLEVERFIT is the world's first precision fit adjustable collar stay. It's unique patent pending design provides an innovative solution to end decades of frustration. Click here to contact us and check out our video to more about CLEVERFIT.
Photo Credit: South Granville Live