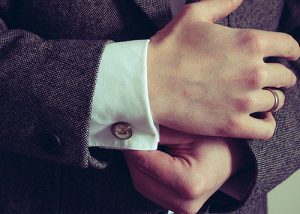 Greek philosopher Epictetus said, "Know first who you are and then adorn yourself accordingly." This statement has never been truer than when choosing the right suit, shoes and of course the right fashion accessory to pull it all together. For men that fashion accessory is cufflinks; they are both fashionable and functional pieces for any man's wardrobe. However, they are more than just a fashion accessory; a pair of cufflinks can really tell the world who you are. We've previously discussed, "Why Men Should Wear Cufflinks," and today we will discuss how to choose the right pair of cufflinks for your personality. 
1. The Boss – Are you a man who is ambitious, has high standards, is an entrepreneur, but still mindful of the old-school fundamentals of success? Then your style might best fit with an elegant pair of cufflinks or a French cuff shirt with cufflinks. This look will give you the no nonsense respect you demand and it'll also let people know who's boss.
Style Tip: Look for vintage cufflinks, like the gold-toned hourglass links or a classic pair of pearl white cufflinks.
2. The Go-Getter – Are you a young man on the rise with big dreams, but a beer dollar budget? Then you need to make a statement that not only shows your style, but shows the boss you're headed for bigger and better things. Try mixing in some French cuffs into your routine once or twice a month, especially in the summer. Have at least three pairs of silk knots and one pair of metal links for formal events.
Style Tip: Even on a beer dollar budget you can manage to pick up silk knot links by the handful. And if you really want to impress, choose two-tone versions in your college colors. It will make you stand out and will be a great conversation piece.
3. The Creative – Are you a man that likes to express himself through everything he does? Then your style screams creativity and your cufflinks should match that style. Consider getting a few personalized cufflinks that convey a special message, reflect your love of sports or your hobbies.
Style Tip: Cufflinks as satire is a once-in-a-while move, not a sartorial standard. Your cufflinks can be amusing but they should never look like you're wearing them to make fun of guys who wear them. They should add a touch of personality to your style.
Finally, cufflinks are always an indication of elegance and high standards. With so many various kinds and styles of cufflinks available, everyone is capable of wearing them to add a touch of refinement and class to any outfit for any occasion.
What is your favorite pair of cufflinks? Share a picture of them in the comments below!
CLEVERFIT is the world's first precision fit adjustable collar stay. It's unique patent pending design provides an innovative solution to end decades of frustration. Click here to contact us and check out our video to more about CLEVERFIT.
Photo Credit: K.giftedhands