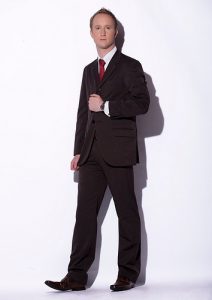 When walking into a business meeting the first thing people notice is your image, what you look like and what you're dressed like. Your image is your most valuable marketing tool and your wardrobe is one of the most important investments. For men that usually means a suit. However, if two men walk into the same business meeting wearing similar suits, how does one appear more powerful than the other? The answer to that is all in the manly yet elegant details. Here are a few tips to make you look more powerful for your next important business meeting. 
1. The Tie – The biggest most important detail that many men may not think twice about is the tie. The tie can really bring a suit together to make it look casual or formal. Designer ties can be a great choice, but just because it's more expensive doesn't mean it will make you look commanding in your big meeting. If you're going to spend the money, consider getting a tie that's not only high quality fabric, but a tie with a design that will stand out. Think about a slick and simple red tie as your power color or a satin black or gray tie if you are going for a tone-on-tone look in your next business meeting.
2. The Right Collar Stays – Another element of a man's attire that can be over looked is the shirt collar. We've all been there getting ready for work putting on our shirt and then notice we need to find a couple of collar stays to keep the collar looking crisp. Believe it or not, a neat crisp collar can give the hint of a strong man, because the power is in the details. So make sure to invest in a good set of collar stays such as CLEVERFIT, and stay away from the plastic collar stays that come with the shirt.
3. Cufflinks and Tie Clips – It's not just about the collar stays. If we are to learn anything from women's fashion it's that accessories are a key element to any put together outfit. Cufflinks are a great example of menswear accessories. They are considered jewelry and using them on a dress shirt will make you standout in a business meeting. There are a variety of options available to suit any style, but remember, slick and simple usually works best so consider a pair of sterling silver cufflinks.
And don't forget the tie clip, although they are usually associated with "stuffy" professionals, a silver tie clip can add a subtle touch to the perfect tie that says, "I'm mighty and in control."
4. Belt – Finally, the belt is also a key piece in any authoritative man's wardrobe. You should keep the old school rule of thumb in mind when choosing a belt; it should match the color of your shoes. The right leather belt is a must for an influential man's dress pants, suits and more. If you're in the market for one, your best bet is a black leather belt with a silver buckle.
What are your tips to dressing like a powerful man in a business meeting? We want to hear from you!
CLEVERFIT is the world's first precision fit adjustable collar stay. It's unique patent pending design provides an innovative solution to end decades of frustration. Click here to contact us and check out our video to more about CLEVERFIT.
Photo Credit: satomodel