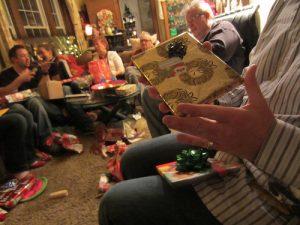 The holidays are here and many of you are scrambling to get your holiday gift ideas set in stone. Shopping for men can be challenging even though many men insist that they aren't picky about their holiday gifts. But before you go out and buy Dad that new tie, take some time to think about the gift you are giving. No one wants to see that special man in their life open up a present, smile and nod their head as they put the gift aside. So here is a list of seven holiday gift ideas to stay away from.
1. Cologne – Unless you know exactly what brand and scent your man likes, stay away from this holiday gift idea. Scent is a very personal thing. You won't wear just any kind of perfume and your man will not wear random cologne. It's also been scientifically proven that when you smell a scent it can bring up memories of a time and place. The last thing you want is to remind them of an ex or a bad experience. So stay away from cologne because it will likely end up unused on their dresser.
2. Ties – Yes, this is a big one. I hate to tell you, but men don't want ties for Christmas, Hanukkah or Kwanza. File this under, "boring," and, "one of the most forgettable holiday gift ideas." No man is going to get excited about something they have to wear for work. Yes, it's useful but it's not the type of gift they are looking forward too.
3. Clothes – Along with ties comes the next holiday gift idea to stay away from: clothes. Unlike most women who love being given clothes and get excited about receiving that new sweater, men usually don't. It's also likely you'll pick something out they won't wear or that doesn't fit with their current wardrobe. Plus most men don't get excited about clothes. If you want a, "WOW!" reaction, stay away from that cute V-neck sweater.
4. Tools – Have you been shopping at Home Depot and thought, "This is a great place for holiday gift ideas for Dad?" Think again! Though many men enjoy their power tools, giving them as a holiday gift is like saying, "Hey, I have a ton of home projects for you to complete and here's a tool to get started." Don't give a gift that really has you in mind and not the person you're giving it to.
5. Bath/Skin Care Products – Have you ever seen bath products or skin care products on a man's holiday wish list? No, I haven't either. So don't spend any time thinking about giving him the gift of a stress relieving lavender bubble bath because let's face it, men don't go crazy for bubbles or facial lotions.
6. Mug – Another holiday gift idea to pass up on is the go-to coffee mug. It's like saying, "Hey special man in my life, I couldn't think of anything good to give you so I went with a classic mug to put your coffee in. Aren't I thoughtful?" The truth is, no you are not. Don't buy him a mug; instead think about buying him what goes in the mug, like maybe a supply of his favorite drink.
7. Gift Cards/Certificates – Last, but definitely not least on the holiday gift ideas to stay away from for men, is the holiday gift card or gift certificate. Though it is easy, simple and less of a hassle than buying a gift, it gives the impression that you didn't care enough to buy something he might like.
So listen up this season, step up your holiday gift ideas game and really think about what he might like. Here's a hint: the more fun it is, the better.
CLEVERFIT is the world's first precision fit adjustable collar stay. It's unique patent pending design provides an innovative solution to end decades of frustration. Click here to contact us and check out our video to more about CLEVERFIT.
Photo Credit: toritoons